Meet Our Dentists
Dr. Raja Sandhu, B.D.S, D.M.D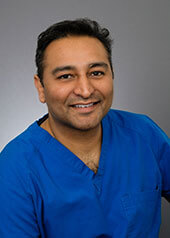 Dr. Raja Sandhu is a graduate of Tufts University School of Dental Medicine class of 2004. Dr. Sandhu has been practising dentistry for the last 14 years in the Ottawa area.
Credentials:
Tufts University- Doctor of Dental Medicine - 2004
ADOCS Education- Oral Sedation Dentistry - 2008
Dr Sandhu currently resides in Manotick with his wife who is a dental hygienist and part of our team, his three children and his little pet guinea pig. If you are looking for him in his spare time, he may be found on hole #9 of the golf course or out on the river with his family.
---
Dr. Chahl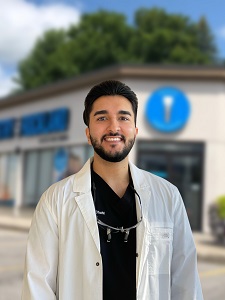 Born and raised in Ottawa, Dr. Chahl found his passion for dentistry at a young age. After having braces and witnessing an immense change in his smile and oral health, he dreamed of one day being able to provide others with the same outstanding quality of care and compassion that he received from his dentists. Dr. Chahl attended the University of Western Ontario, where he completed his Bachelor of Health Sciences with Honors Specialization. He then completed his Doctor of Dental Medicine from The University of Sydney, where he was awarded the John Stephen Hill Memorial Prize for Proficiency in Clinical Operative Dentistry. Patient comfort is his top priority and Dr. Chahl is excited to provide his patients with exceptional care in a relaxing atmosphere.
Outside of the clinic, Dr. Chahl enjoys staying active, getting outdoors and playing sports. He is especially passionate about soccer, a sport that he has been playing from a young age.
---
Dr. Hemal Patel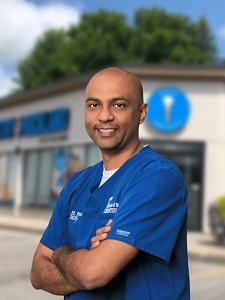 Dr. Patel received his Bachelor of Dental Surgery (BDS) in 2007, graduating from the Coorg Institute of Dental Sciences (India). Dr. Patel received his NDEB equivalency in 2015, after completing the courses he received his Dental Licence in Canada in 2016. Since completing his licensing for Dental Implants Dr.Patel has been working with Dr. Raja Sandhu on full mouth restorations. Observing advanced techniques such as the Trefoil System. Dr. Patel strongly believes in patient comfort, and also provides Dental Sedation for any patients who may have any nerves about dental work.
Dr. Patel takes pride in his warm and professional chair-side manner and is excited to discuss any questions you may have. He also tries to be available to his patients 24/7.
When not in the office Dr. Patel loves to spend time with his family. He married the love of his life Smrutika in 2012 and welcomed a son Aarav in 2014. He can also be found working at Dentistry@Perth and Dentistry@Winchester.
Professional Milestones:
Trained 300 Dentists in 3 years
Dental Lecturer in India
Completed Licensing for Dental Implants
---
Dr. Dang-Quang Truong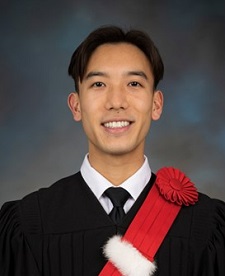 Dr. Dang-Quang Truong was born in Montreal, Quebec and raised in Ottawa, Ontario. After high school, he returned to Montreal to pursue his studies. He completed his DMD at the University of Montreal in 2023 and decided to come back to Ontario to join Dentistry at Rockland.
Dr. Truong is an easy-going person who wants his patients to feel comfortable and welcomed in his chair. Dr. Truong is ready to provide service in English and French. He can also speak Vietnamese conversationally.
Outside of the clinic, Dr. Truong enjoys spending time with family as well as watching and playing sports, his favourite being football. He also enjoys different sorts of cuisines and watching shows – recommendations are always welcomed!
---
Dr. Harsh Patel, BDS, DDS, MAS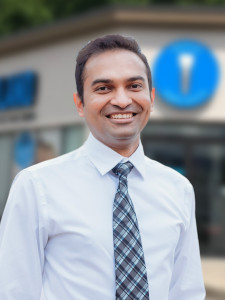 Dr. Harsh Patel graduated in 2011 with a Bachelor of Dental Surgery from Dharmsinh Desai University in India. Following graduation, he worked as the head dentist at Referral Hospital and Community Health Centre in India. While in university Dr. Patel represented Dharmsinh Desai at the National Level in Badminton and was the winner of table tennis tournaments for 4 consecutive years.
Dr. Patel moved to Vancouver, BC and attended Fairleigh Dickinson University where he graduated in 2013 with his Master of Administrative Science and specialized in global health and human services.
Dr. Patel remained in Vancouver for 4 years before attending the State University of New York in Buffalo where he won two awards; Most Outstanding Esthetic Case completed in his fourth year and the Delta Sigma Delta Award of Initiative, Attitude, and General Excellence in Operative Dentistry and graduating with a Doctorate of Dental Surgery. He also cleared his board exam in the USA to practise dentistry. Immediately following graduation Dr. Patel moved back to Canada where he started his dental career with Dentistry@Brockville.
Professional milestones are
The Ultimate All on X - Canadian implant Dentistry Network
Implant Mini Residency - T.I.D.E
IV Moderate Sedation
Oral Moderate sedation
Small-Field-of-View Cone Beam CT
Member of the International Congress of Oral Implantology
Member of the Ontario Dental Association
Invisalign certification
He got married in 2016 and is currently living in Ottawa with his wife, Dr. Krishna Patel and their daughter, where they like to explore new places and try new food. He participates in volleyball and cricket leagues while he is not doing dentistry. He Believes "Hard work puts you where good luck can find you".
---
Sam Lima - Denturist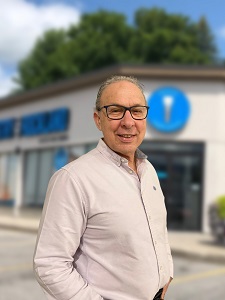 Mr. Sam Lima, DD has been crafting dentures for over 15 years. After 30+ years of owning a clinic and practising in Vanier Ontario, Sam decided to move his love of dentures to the beautiful town of Perth Ontario, where he and his wife Sherry spent their weekends at the cottage.
Sam is devoted to helping his patients and keeping them smiling with confidence. He is attentive when creating a denture and understands that every person has different denture requirements. He takes great pride in carefully crafting a denture to fit your oral needs. With 35+ years of experience, Sam is well versed in all types of dentures including dentures on implants, and can answer any questions or concerns you may have.
Sam grew up in Trabia, Italy with his parents and two younger brothers. When he was 17 years old, his family moved to Ottawa Ontario, where Sam found his passion in Denturism while working in a dental lab. Soon after he attended George Brown College to complete his diploma in Denturism and opened multiple clinics in Ottawa. In his spare time, Sam enjoys spending time with his 5 grandchildren, keeping in shape at the gym, and taking long motorcycle rides in the summer.